OnDemand Open House: Professional Certificate Program Real Estate Finance & Development
May 12, 2023
Available On Demand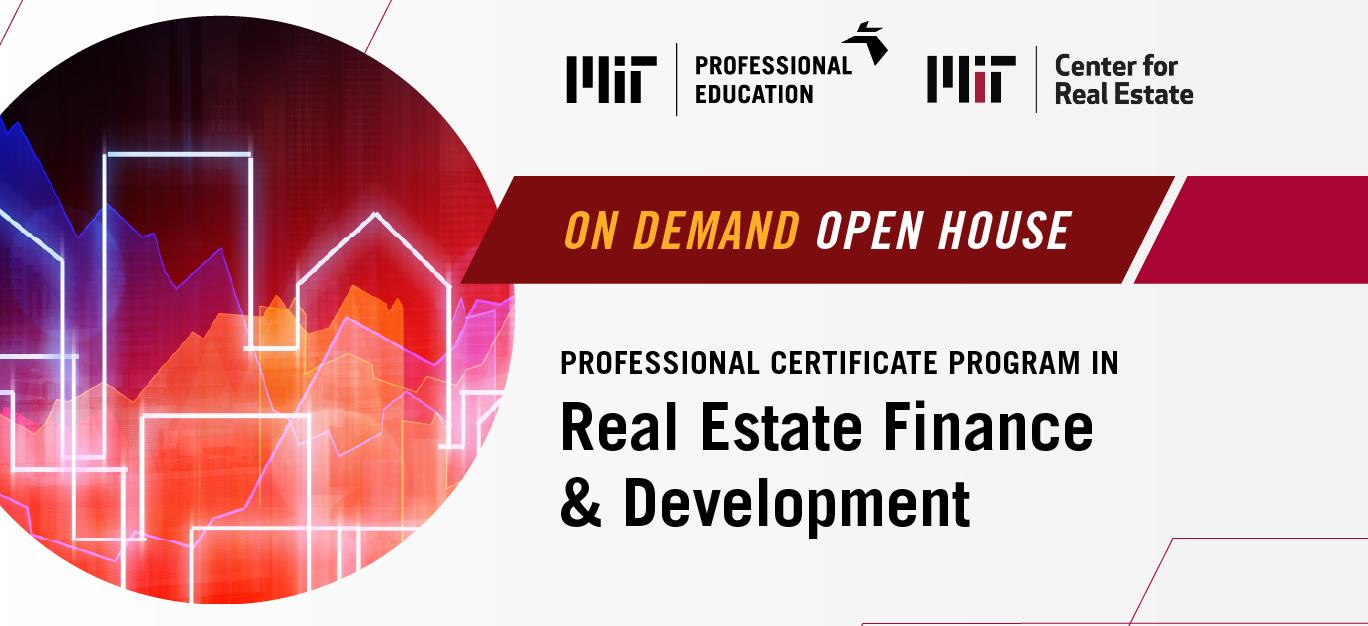 We invite you to explore our Professional Certificate Program in Real Estate Finance & Development, you'll join leading MIT experts to acquire the strategies, tools, and vision you need to drive new value and stay ahead of the competition. 
Our On-Demand Virtual Open House is your chance to: 
Hear from the prestigious MIT faculty who lead the program—top educators, researchers, and industry practitioners who are shaping the future of real estate
Learn about the certificate's curriculum, activities, and networking opportunities and how they can help you identify and act on new opportunities in your industry 
Determine how the program can help you transform your career and solve your unique challenges
LEAD INSTRUCTORS
W. TOD MCGRATH 
Lecturer, MIT Center for Real Estate; Vice President of Finance at Boston Properties
ALBERT SAIZ 
Daniel Rose Associate Professor of Urban Economics and Real Estate, MIT; Director, MIT Urban Economics Lab
ZHENGZHEN TAN 
Lecturer, MIT; Executive Director, MIT Sustainable Urbanization Lab; Director, China Future City Program
WALTER TOROUS 
Senior Lecturer, Center for Real Estate's MSRED Program and Sloan School of Management
SIQI ZHENG 
STL Champion Professor of Urban and Real Estate Sustainability, MIT; Faculty Director, MIT Center for Real Estate; Faculty Director, MIT Sustainable Urbanization Lab
Questions? Contact us at shortprograms@mit.edu.