Participant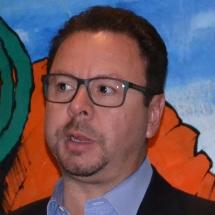 Ralph Rodriguez
Entrepreneur
Founder, confirm.io
MIT Professional Education's Advanced Study Program (ASP), which gives working professionals the opportunity to take virtually any class at MIT, bills itself as "self-directed." It's proven to be a perfect match for Ralph A. Rodriguez, a man who describes himself as "self-driven."
Rodriguez has logged an unprecedented 20 consecutive semesters of diverse studies (and a 4.9 cumulative GPA) in the ASP program even as he's started and run several companies, been awarded 11 patents with more pending and served on multiple boards, and also relished being a husband, dad, and grandfather.
"MIT and the ASP program have been my idea factory for so long, it's almost scary," Rodriguez says. A Boston native who was first exposed to MIT during his service as a U.S. Army Special Operations chief warrant officer during the Reagan Administration, Rodriguez went on to additional studies in the 1990s. Ten years ago, he returned to enhance his knowledge of information technology and management, and has explored an ever-widening range of related topics, from development of inventions to brain science to security technologies, all with an eye towards new ventures.
"I really appreciated that MIT Professional Education didn't look at me and say, "you're in computer science so that's what you should study," recalls Rodriguez, whose background in information technology, communications, and software had led him to C-level positions at a number of publicly held tech companies. "I'm inquisitive, and my studies here have helped me become both a researcher and an entrepreneur. That's a luxury, because it helps me think simultaneously about intellectual property and what's described in patent lingo as "reduction to practice," which is really about taking a novel idea, fleshing out a concept, and actually building it. It's the MIT 'mens et manus' spirit, and it's an understanding that helps develop unique concepts that create value."
A case in point: On the recommendation of mentor, friend, and business partner, Department of Electrical Engineering and Computer Science Professor Robert H. Rines, Rodriguez took what he considers his most challenging ASP program class: 6.868 (The Society of Mind), with artificial intelligence pioneer Marvin Minsky in 2007. Apple's iPhone was just being introduced, and Rodriguez was interested in how smartphones could enable new AI-based security architectures. He hypothesized that humans had unique relationships with their personal passwords, both cognitively and in their executive motor control responses.
"It turns out entering a password is like playing the piano — individuals do it differently, with distinctive touch and rhythm, so even if someone knows your password, they can be prevented from gaining access," he explains. His class research paper on an event-driven security architecture was published, he successfully closed a Series A round of funding, and his patent application became the intellectual property foundation of Delfigo Security, which provides biometric-cognitive information security solutions, with Rodriguez as founder and CEO.
But the development didn't stop there. Physicists at Delfigo soon discovered that smartphones provide a wealth of behavioral biometric data. "We could tell which hand you hold your phone in, if you hold it at an angle, how hard you touch the screen," says Rodriguez. "And once you start collecting data, you start to see anomalies. For example, with a stroke victim or a multiple sclerosis patient, their phone could analyze changing patterns and say, "you're at risk of having an episode today."
Realizing that this could have broad medical applications, Rodriguez took advantage of ASP program fellowship opportunities in the Harvard-MIT Division of Health Sciences and Technology in the spring of 2009. "I wanted to understand the state of the medical field, and what happens when you start getting data from millions of individuals — how does it flow into clinical decision support and electronic medical record systems," he says. "A true marriage of science and technology."
Rodriguez, who has spent many late nights doing ASP program assignments and primary research, acknowledges that combining demanding course work with leadership of a startup was complex. "I had to leave work mid-day and get from the Seaport area in Boston to the Harvard Medical Education Center on Longwood Avenue by Children's Hospital," he recalls. "Fortunately, my board of directors understood that this was aimed at us being able to solve problems no one else had, and that the solution would be meaningful." And ultimately, health care applications have become a growing part of Delfigo's business with Children's Hospital one of its first customers.
Tish Miller, the ASP program director, says the program prides itself on offering opportunities to all participants. But, she notes, "Ralph has taken those available opportunities and done a really unique job of developing ideas and transferring them into the business world. We're delighted he did it with us."
Adds Bhaskar Pant, executive director of MIT Professional Education, "In the 52 years of the ASP program, a diverse set of bright professionals from around the world have taken advantage of the program's unique feature of allowing access to regular MIT courses without having to enroll in a degree program. Some have spent several semesters doing that, but Ralph stands alone as a quintessential "lifelong learner" in his record 20-semester association with us. We are so proud to have been able to play a continuing role in Ralph's decades-long learning and entrepreneurial success."
Rodriguez's most recent startup, Confirm.io, aims to support sharing-economy companies by providing rigorous forensic authentication of personal identification, using smartphone camera capabilities to verify the authenticity of any government-issued ID. He also founded enterprise technology research company Blue Hill Research in 2013 because "I got annoyed reading reports about new software products that were just lists of features and functions. We cover the top software companies through an executive customer's eyes to help them procure technologies that will optimize business outcomes."
Not every ASP program participant will go as far and wide as Rodriguez has — and he's considering a class in real estate development for his next semester. But he counsels students to go deep, by choosing subject matter they truly care about.
"If someone asked me what class to take, I'd simply pose a question," he says. "What topic would you happily enjoy working on at 3 a.m.? If you bring that kind of excitement to solving a problem or researching a new area of interest, it's a sign that you're following your own dreams, and you'll do well."
Highlights from Ralph Rodriguez's 20 Semesters
Which professor most changed your perspective?
There are so many, but EECS Professor Robert H. Rines Esq. taught me to truly dream and not be afraid to create something that others would frown on or think was a waste of time. I was so lucky to work with a person who was both a world-class physicist and a world-class patent attorney!
Which class do you refer to most often in business meetings?
That would be 6.931, Development of Inventions – understanding and focusing on IP helps me, my peers and my employees think in a way that creates value for our company, its people and its investors.
Which class most exceeded your expectations?
The Sloan flagship course, 15.390, New Enterprises, which teaches how to successfully pitch and launch a business, and MAS.883, Neurotechnology Ventures, a focused subset of that. The professors and lecturers make these must-haves if you're serious about being an entrepreneur.
What class provided the most surprising insights?
My study and research with Ed Boyden, professor of biological engineering and brain and cognitive sciences at the Media Lab and the McGovern Institute. His research continues to suggest that we know very little about how the brain actually works. And more broadly, that the sheer amount of research being published means that substantial effort is expended on problems that have already been solved, and that we need new ways to collate, consume or make sense of all that data, possibly through machine learning.