What's So Smart About Smart Manufacturing?
Alex Landa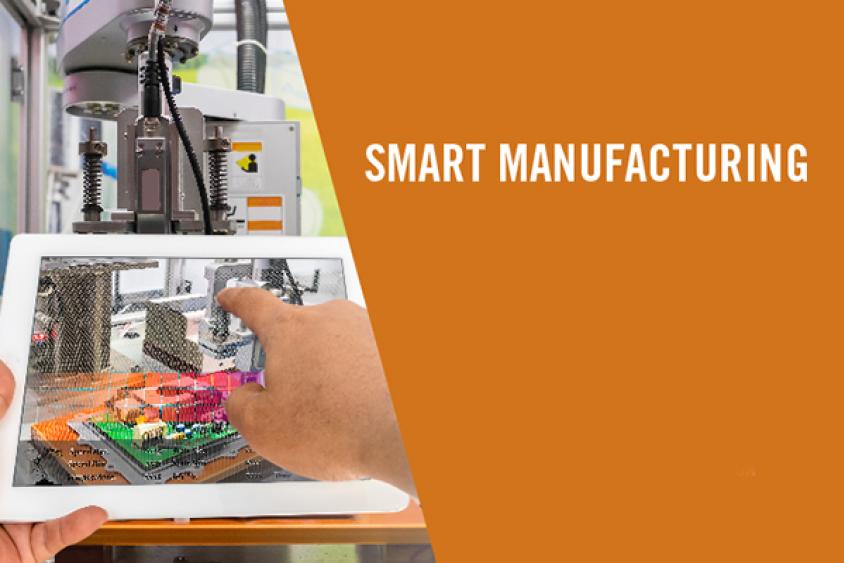 The current paradigm shift of many technologies becoming "smart" isn't just for consumer products. We're seeing this movement take place in business, government, healthcare, and more, and manufacturing is no different. This shift is seeing many businesses involved in product development moving towards smart manufacturing, taking advantage of newer technologies and strategies, such as computational design, additive manufacturing, product platforming, and more.
It's important to understand how smart manufacturing separates itself from traditional manufacturing, the benefits of it, how it affects the workplace, and how to incorporate it into your organization as well.
THE PERFECT PARTNERSHIP
The National Institute of Standards and Technology (NIST)'s definition of smart manufacturing calls smart manufacturing (SM), "systems that are fully-integrated, collaborative manufacturing systems that respond in real time to meet changing demands and conditions in the factory, in the supply network, and in customer needs."
Essentially, it's the partnership of IIoT and manufacturing, creating a modern factory that capitalizes on sensors and stronger technology, enabling faster, more efficient processes and automation. SM takes advantage of data analytics, leading to more informed, data-driven decisions that humans may not be able to do on their own, or at least not nearly as quickly.
Of course, it's not as simple as putting a new chip into an existing machine. Smart manufacturing is a series of technologies and processes. A lot of it is developing new strategies and focusing on current innovation, such as using additive manufacturing (AM) /3D printing, and how AM is shaping to be a necessity in manufacturing. There are clear benefits to these exciting new tactics.
THE BENEFITS OF SMART MANUFACTURING
The benefits of smart manufacturing are far and wide, ranging from improved efficiency to a changing workforce. Companies see clear quantitative benefits, with 82% reporting increased efficiency and 45% reporting customer satisfaction gains. More benefits include:
Increased efficiency across the board, including labor, materials, and energy.
Reliability can be measured in real-time through digital readings, exporting to actionable data instantly.
Provides a framework for control, including real-time monitoring and controlling capabilities, allowing for smarter deploying of resources and the workforce.
Predicts failure by creating an alert when there is a dip in performance or a problem needs to be addressed (similar to how a car has a 'change oil' light).
Streamlining processes through automating modeling and simulation by using AI capabilities, ultimately eliminating costly errors and actively correcting problems.
Creates new jobs, such as manufacturing professionals that specialize in IT, cybersecurity, data analytics, and more. It's important to keep in mind that smart manufacturing isn't replacing jobs with machines, rather it's the convergence of humans working with machines together.
Allows for further workforce development to upskill and retrain existing employees to become SM savvy.
Faster product development can increase customer satisfaction by meeting their needs quickly, increasing customer loyalty and trust.
A massive reduction in costs due to material, energy, and labor efficiency.
All of these benefits come together for one of the main factors any organization will be looking at: margins. Through increased efficiency of labor and materials, creating new jobs, and having more reliable results, most companies using SM will see an ROI on their investments within a year, if not faster.
HOW TO GET INTO SMART MANUFACTURING
There are various ways that a business can get started with smart manufacturing, and a good way to begin is by starting small and working on developing a culture of innovation before diving right into large-scale investments for new technologies.
Want to gain a thorough understanding of SM tactics through an in-person, hands-on education? MIT Professional Education offers many courses in Design & Manufacturing, including important SM techniques such as Computational Design for Manufacturing and Additive Manufacturing: From 3D Printing to the Factory Floor.