S. African media see Herald innovations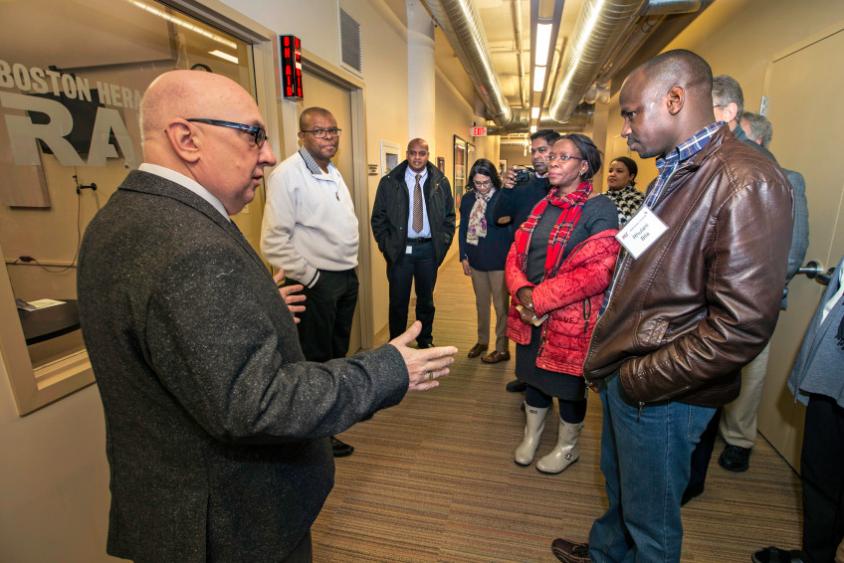 South African media and business professionals taking part in a special program at MIT visited the Herald newsroom yesterday to learn about its multimedia efforts following its designation as national "Innovator of the Year" by the Associated Press Media Editors.
The delegation was sponsored by the Johannesburg-based Regenesys Business School to "explore cutting-edge knowledge, best practices and trends in leadership, innovation, entrepreneurship and manufacturing by visiting and engaging with influential institutions and leaders in the USA and South Africa."
The Herald visit was designed "to exchange views and ideas of what the future might hold and to learn from one of the most successful and award-winning daily newspapers in the U.S.," organizers at the MIT Professional Education Office said.
Led by Herald Editor-in-Chief Joe Sciacca and Managing Editor for print and web integration Joe Dwinell, the group toured the Boston Herald Radio studio, which has been integrated with the news organization's print, Web and video platforms and social media engagement.
They met with editors, talk show hosts, reporters and others and discussed the "new news cycle" which defines how the Herald breaks news across platforms in a way APME said could create an industry standard for newspapers in the multimedia age.
Joining the delegation from South Africa on behalf of MIT were Tish Miller, academic programs director for professional programs, and Dr. Steven Goldman.
Source: Boston Herald