MIT Professional Education conducts first all-virtual class in the wake of Covid-19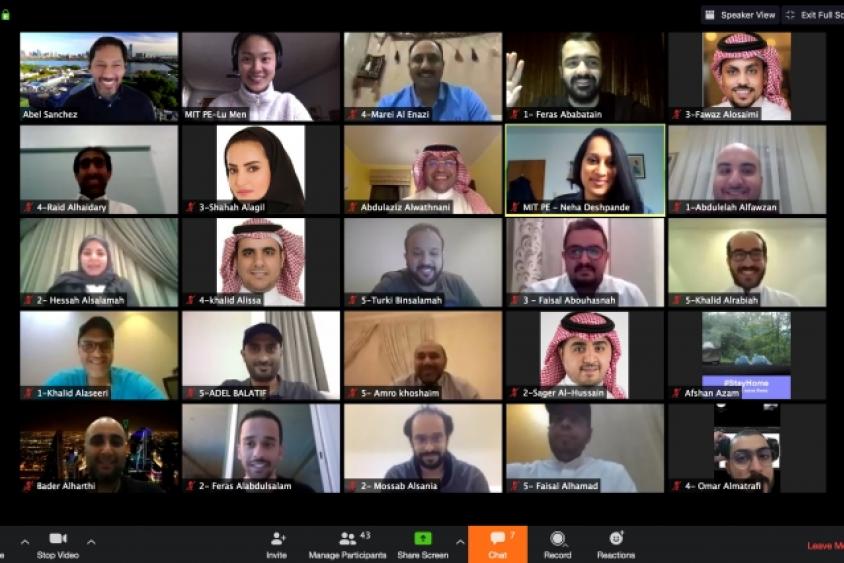 Following more than a year of planning, MIT Professional Education's high-demand Digital Transformation program was ready to be held at Al Yamamah University in Riyadh, Saudi Arabia, when it suddenly hit an inflection point. Given the development of the Covid-19 global pandemic, delivering the on-the-ground program was no longer an option. Program Director Abel Sanchez and staff considered the options: "Do we cancel or postpone the program, or can we effectively pivot to a live virtual format — and still provide an engaging, high-quality learning experience?"
With only two weeks to reconfigure the program, Sanchez decided to take on the challenge and quickly adapted his curriculum to a new environment of instruction — live, but completely virtual.
"Though I've taught webinars in the past, this was my first time teaching an entire program virtually," says Sanchez. "The challenge is that online formats can be dry and dull. As a participant, you're checking your emails while [the course] is going on, and then coming back to attention when things pick up a bit. I knew we had to develop a better way. So that's what we did!"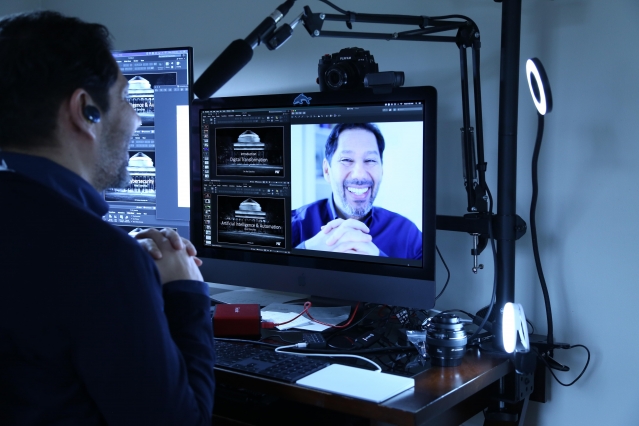 Developing a high-level online experience
With the support of Al Yamamah University, Sanchez took the material he had planned for the Digital Transformation course and reformatted it to accommodate live virtual delivery. That included incorporating tools such as interactive surveys and word-clouds. "I probably did about four times more preparation for this offering than I've done for a traditional face-to-face course," Sanchez says. "I wanted to incorporate a lot of interactivity."
Through the process, he discovered three major takeaways for translating on-the-ground courses to online virtual formats: 
You can't rely on charm and personality. When teaching, instructors often rely on the in-person connection to effectively engage with their students. Without that component, you need to win them over with content and activities.
Don't fall in love with your planned content. You've worked hard in your field and put a lot of effort into preparing your curriculum, but the pacing of virtual teaching can differ from in-person courses. If your students are particularly engaged with one activity, you may not have time for something else you had planned — and you have to be OK with that. 
Interactive activities win the day. You may not be physically together, but you can — and should — still work together. "The pace and ratio of activities are really important," Sanchez says. "If you include too many activities, the program becomes disconnected and you lose momentum. But if your course is too lecture-heavy, you lose engagement. You need to strike a very careful balance."
Learning in a period of disruption
Once the course launched, Sanchez followed a simple format to encourage participant engagement. After familiarizing the participants with the interactive features of the online platform, he would lecture for a short period, introduce an activity, make time for discussion, and then repeat the cycle. Within the structure, Sanchez encouraged participants to help shape their course experience. For instance, he offered the choice of completing an activity on fake news or autonomous vehicles (fake news won with two-thirds of the votes).
Group discussions, an important component of the on-the-ground course curriculum, were also translated for the online environment. Sanchez found that not only did the virtual format allow for these important breakout sessions — it actually made them easier to facilitate. 
"The team breakouts were faster than when we do them face-to-face," he said. "In person, it takes a lot of time for people to navigate the physical space and get into groups. For this course, I'd tell them it was time to break out and 10 seconds later, 36 participants were in groups and collaborating."
Participants also appeared more comfortable asking questions in the online format, Sanchez reports, perhaps due to the anonymity of the chat function. The result was a more open environment, in which people could engage without worrying about whether they were asking "stupid" questions.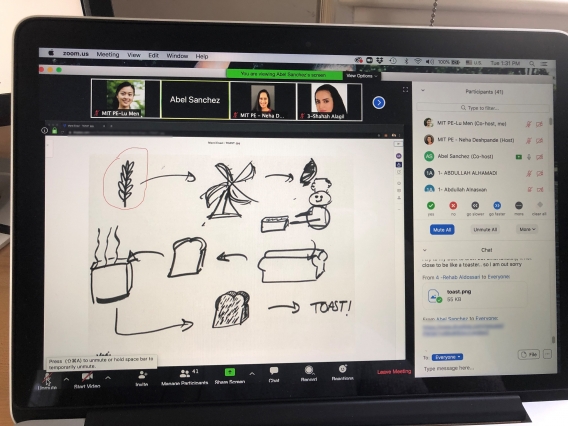 Moving forward in a time of uncertainty
Under less-than-ideal circumstances created by Covid-19, Sanchez was able to transform an in-person offering into a virtual learning model in just two weeks. And the final product was an unqualified success.
"The course was wonderful," says Hessah Alsalamah, dean of the College of Engineering and Architecture, Al Yamamah University, who attended the course herself. She notes, "The hands-on exercises and group discussions made the material even more interesting."
"It was a very informative and effective course," says another course participant, Feras Ababatain, team lead of a digital transformation unit. "We were able to explore the most important and up-to-date technologies that executives must know about."
Khalid Alrabiah, financial analyst for an electricity company, agrees, highlighting the advantages of virtual learning. "I liked using Zoom because there were no (external) distractions," Khalid says. "We were able to focus completely on the course."
"At MIT, we are constantly pushing the boundaries of technology — and that includes the way we teach," says Bhaskar Pant, executive director of MIT Professional Education. "At MIT Professional Education, we had been pursuing asynchronous online and hybrid learning models for some time, but this is the first time we offered an entire four-day course live virtually to a dispersed, non-colocated audience, spurred by the evolving coronavirus situation. We are very proud to have taken the lead in this regard, with Dr. Sanchez's adventurous, well-planned contribution, allowing MIT faculty to learn from our successful experience. We will continue to break new ground in serving our learners in these uncertain times."