MIT Additive Manufacturing Expert Discusses the Future of AM and a New Comprehensive Training Course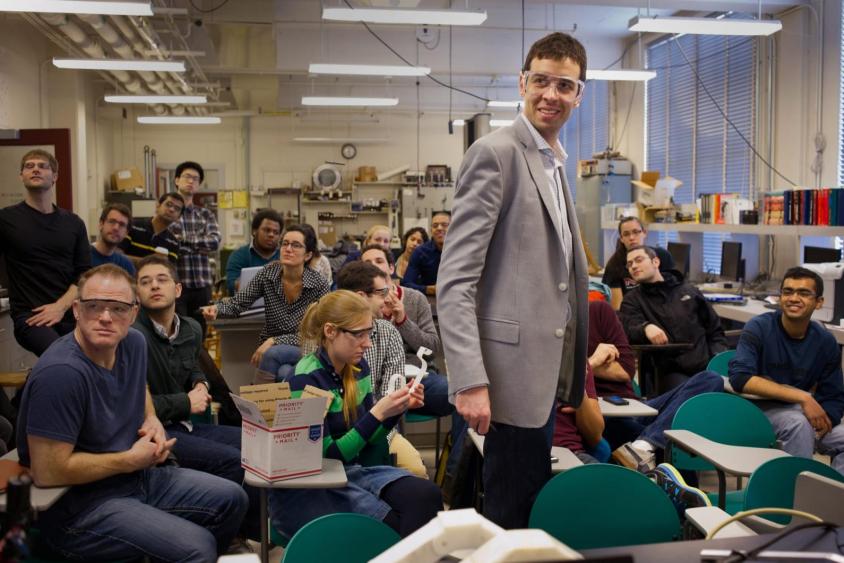 Following years of research, there is now a high level of interest in additive manufacturing (AM).  AM has a variety of applications from ubiquitous personal fabrication to the reconfiguration of global supply chains. To educate about this growing technology, the Massachusetts Institute of Technology (MIT) is offering a comprehensive introduction to AM, including: fundamentals, applications, and technology trends.  The course, Additive Manufacturing: From 3D Printing to the Factory Floor, will educate participants in AM processes for polymers, metals, composites, and biomaterials. It will also educate on how AM's capabilities (rate, cost, quality) are determined by the material characteristics, process parameters, and machine designs. Participants who complete the course are eligible for a professional certificate in innovation and technology. 
MIT Additive Manufacturing Expert Discusses the Future of AM and a New Comprehensive Training Course Applications include aerospace components, electronics, medical devices, and consumer products. Participants will experience an emphasis on AM technologies for metals and other advanced materials, and their related design principles and qualification approaches. Lab sessions will provide hands-on experience with a variety of state-of-the-art AM equipment where participants can design, make, and measure test parts. Finally, the course will explore how AM will influence existing business models in product design, manufacturing, and logistics, and identify areas of opportunity. 
The course will take place Jul 31, 2017 – Aug 4, 2017. John Hart, Associate Professor of Mechanical Engineering and Mitsui Career Development Chair at MIT, is the lead instructor for the course. We had the opportunity to speak to Professor Hart about this course and the future of additive manufacturing.
What level of understanding with regard to AM is needed to take this course?
Hart: There is no specific level of understanding required for the course. The breadth of content covered – ranging from process specifics to real-life value analysis of AM applications – should be suitable for participants of all backgrounds and levels of experience. We've structured it such that the course material should be accessible to those new to AM, yet comprehensive and valuable to those well-versed in it.
We've also taken great efforts to provide a diversity of content and, more importantly, modes of delivering that content – e.g. case studies, site-visits, hands-on labs, and guest lectures – and we've been pleased with the results. Nearly all of the participants who responded to our exit survey felt that the knowledge they learned in the course will be of critical or high impact to them and their organization.
Is there a particular job function type (i.e. engineer) that would best suited for successful results in participation of this course?
Hart: Given the transformative scope of AM technology and its emerging impact across industries, it's a challenge to narrow this down. However, I feel engineers – from designers to manufacturing engineers – and decision makers in product development, manufacturing, and innovation may find the course most applicable to their specific needs.
Is the first time you are offering this program, if so what inspired the program's availability?
Hart: 2017 will mark the fourth consecutive year we have offered this course. After reviewing the educational landscape, we realized that there was a poignant disconnect between the skills needed to adequately understand and deploy AM technologies and the resources available to help bridge that gap. We felt that MIT's unique position as a world-educator and innovation-oriented institute yielded a prime opportunity for us to bring our expertise to the business community at large.
Would it make sense for industrial engineering students from other university's to attend this course? Do you offer discounted rates for students/alumni?
Hart: This course is mainly targeted at a business audience, as a major focus of the course describes AM's myriad applications and the business case for choosing AM over traditional forming techniques in certain contexts. Consequently, we have historically avoided recommending it for a student audience.
Would it make sense for 3D Printing / Additive Manufacturing startups to attend your course, if so do you offer any discounted rates for technology startups?
Hart: Startups may find it valuable to survey the AM landscape or to understand the calculations decision-makers at potential client organizations make with regards to investing in a new technology, especially for production level machines. Further, they may find it useful for establishing connections with an eager industrial audience, as well; we emphasize team collaboration in tandem with lecture activities, and, additionally, have multiple structured networking opportunities. While we consider discount requests, we consider these only in very special cases because there is limited space and high demand.
3D Printing and Additive Manufacturing was invented some 30 years ago, why do you now believe these technologies are so important to the future of manufacturing?
Hart: Since its invention here at MIT, 3D Printing has had some role in manufacturing through expediting the design stage of component parts, particularly in high-performance industries. However, the massive growth we're experiencing is a confluence of a few factors: On one hand, our ability to leverage AM's layer-by-layer construction has been augmented by advancements in digital design tools and their adoption as a fundamental element of the design process. New insights in generative design and topology optimization, for example, are uniquely suited for AM, which can be used to design geometrically complex parts with new properties and performance. These complex designs were previously considered impossible given the constraints on traditional manufacturing methods.
On the other hand, the library of materials engineered for AM (and the ability of machines to utilize that diverse library) has expanded rapidly, now encompassing a range of materials from high-grade metal alloys to high-temperature thermoplastics and composite materials. Similarly, the machines that use these diverse materials have realized improved electromechanical properties that allow them to produce better parts, faster than ever, in an increasingly wide range of applications. We hope to navigate the contours of this horizon in the latter half of our course.
The topics of workforce and skills gap are very prominent in today's news; being that AM technologies are new to the next generations what advice would you give to millennials and students of industrial engineering regarding this curriculum?
Hart: Often when we discuss the skills gap regarding AM, we are speaking specifically of the need for machine operators – the "modern machinist" who is capable of operating AM machines and conducting the post-processing necessary for producing high-quality finished parts. Most of the available educational offerings for AM are tailored to this specific type of user, and even then only scratch the surface of the varieties of processes, materials, and applications.
A greater, more insidious need is that there remains a lack of educational programming tailored specifically to understanding AM's fundamental principles and capabilities. Students and engineers must understand that the possibilities of AM are derivative of its fundamental process parameters and the material capabilities of their chosen method if they are to utilize AM techniques to their full potential. This is where we hope to shine: we devote the plurality of our course content to examining in detail the fundamental science underlying AM and elucidating its application space from those principles directly.
3D Printing crosses over into many applications such as industrial, manufacturing, medical, fashion, art. Can you talk more about specifications for materials, and industry standards necessary for printing across these industries?
Hart: Standards and qualification remain an ongoing challenge to the adoption of AM for end-use parts, particularly in structural applications where confidence and reliability in the part's mechanical properties is essential. Advances in metrology devices will be necessary in order to ensure consistent material performance after the AM part is fabricated. However, despite these challenges, there is cause for optimism: In 2015, according to the 2016 Wohler's Report, nearly 50% of all AM parts produced were for end-use parts – i.e. parts where qualified performance is necessary.
Lastly, we discuss in the course the use of AM for tooling, fixtures, and molds – in all of these uses, AM is used only to expedite and augment traditional manufacturing processes, and thus the existing material qualifications are already sufficient.
Additive manufacturing is as exciting as its applications are diverse. While we think AM will bear strongly on the future of many industries, we must acknowledge that a given firm's pathway for AM adoption may be uniquely timed to their own needs. As a result, we make ourselves available to any interested organizations or individuals within those organizations to help answer questions and talk through the course content. Anyone can reach out to me (ajhart@mit.edu) or the course administrator, Haden Quinlan (hquinlan@mit.edu) if they are interested in learning more.
Source: Fastener News