The Art of Mastering Innovation and Design-Thinking
Alex Landa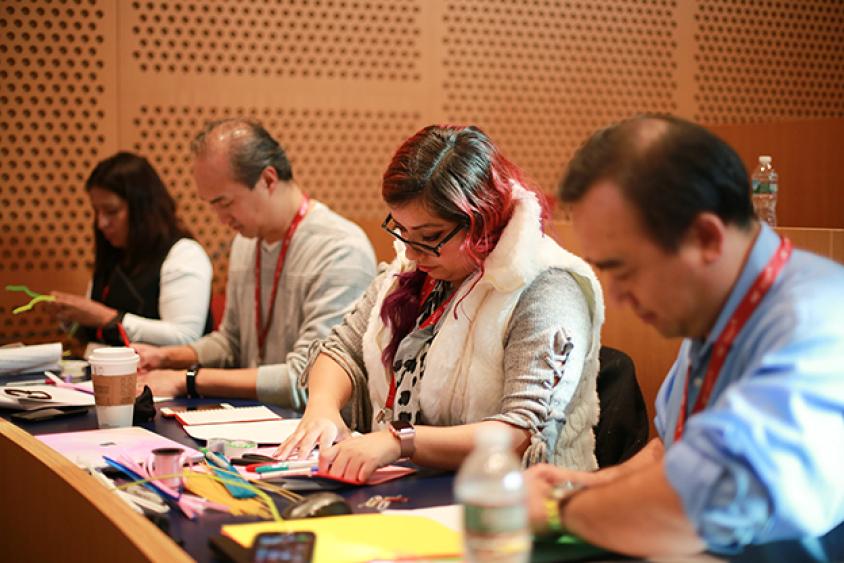 In a traditional lecture hall in MIT's Stata Center, over 30 students from around the world dig through a plastic tote bin in an attempt to find their perfect pipe cleaners, the right-colored construction paper, and scotch tape to put everything together. At first glance, this sounds like a strange way to teach product design, but there's a method to this lecture.
As part of the MIT Professional Education Short Programs course, Mastering Innovation & Design-Thinking, participants partner with one another to design each other's ideal shopping experience. Through lightning rounds of interviewing one another about what they like and dislike about shopping for something important (such as a car or a major technology purpose), they nearly psychoanalyze their partners in order to discern their motivations and ideal outcomes in order to help them through the shopping process.
What comes from this particular fast-paced, hands-on exercise is a room filled with stores made out of cardboard, scotch-taped chronological flowcharts of hypothetical purchasing processes, and pipe cleaner VR glasses.
It's a blast.
Image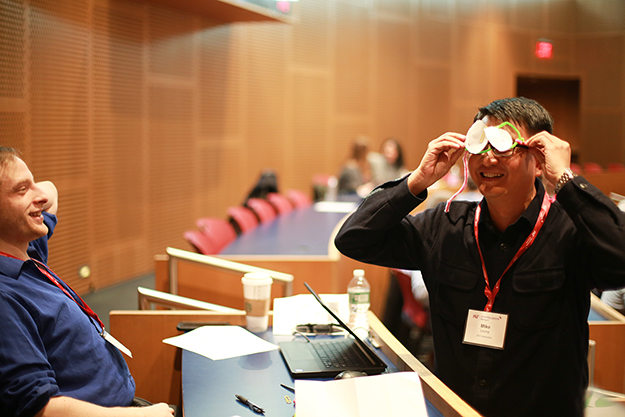 What is Design Thinking?
There, of course, is a reason for all of this. As part of the course, Blade Kotelly, Senior Lecturer at the Bernard M. Gordon-MIT Engineering Leadership Program, believes that the design process shouldn't go straight into digital or physical production. Rather, the art of design-thinking is the emphasis on starting with an analog prototype, even if it's just using pencil and paper. There are many reasons behind this, but in short, it's to allow flexibility when working with people for the initial prototyping. It's a lot easier to erase something on paper than to redo the HTML of a webpage.
Kotelly and Joel Schindall (Co-Director, Bernard M. Gordon-MIT Engineering Leadership Program) walk students through their 10-step design process and how applying a design-centered approach can lead to radically innovative solutions. Most people will begin by asking questions and identifying problems that need to be solved, but according to Kotelly, you need to understand why this question is being asked in the first place, as well as the motivation behind it.
What makes this course special is the human-centered approach behind the lectures, the melting pot of peers you end up learning from, and the unique, hands-on workshops that force you to think quickly and react to your teammates instantly, reflecting the potentiality of an actual brainstorming session in a business setting. It's not just design—it's psychology, motivation, user experience, business, and more.
The Ideal Shopping Experience
The dynamic structure of the course effectively balances traditional lectures with quick group discussions, brainstorming ideas with partners, and hands-on design exercises using drawings, chalkboards, and other physical items. While many participants work in digital fields, Kotelly brings the class back to basics by encouraging traditional prototyping methods, promoting the idea of quick turnarounds, flexibility, and listening to their partner's needs and ideas in real-time.
The project of designing the 'ideal shopping experience' with a partner is incredibly impactful and relevant as an example and workshop. Participants take turns interviewing each other in short bursts, identifying components of their ideal experience, including likes and dislikes. Because they don't have time to dive into every component, they must focus on major needs, things to avoid, and the physical or digital platform on which the end product would lie.
"This project was a perfect example of how to make sure your design will meet the needs of the user," says Ricardo Arbocco, CIO at America Movil Peru SAC in Lima, Peru. "The processes used to empathize with your client and to develop the design were very efficient and [will be] very easy to explain later to my own team as a similar practice." Arbocco praises the focus on empathizing with customers in order to develop the ideal solution to their problem as being a critical, but often neglected component of the design process.
After the initial series of partner interviews, Kotelly calls everyone to the front of the room to actually build these prototypes. It's another lesson: design can be done well without relying on technology, even on-the-fly, by getting to the heart of the matter. The entire exercise induces an almost fight-or-flight response to a customer's needs, complete with adrenaline forcing you to react quickly and precisely.
It's also reflective of how often many of us have been in situations that called for a fast turnaround with limited resources. "I appreciated the nod to prototyping in a lengthier, hands-on project," says Alexandra Matthiesen, Director at Westward Creative in Seattle, WA. "It appeared to help many attendees realize the potential at hand in low-investment concept development."
Image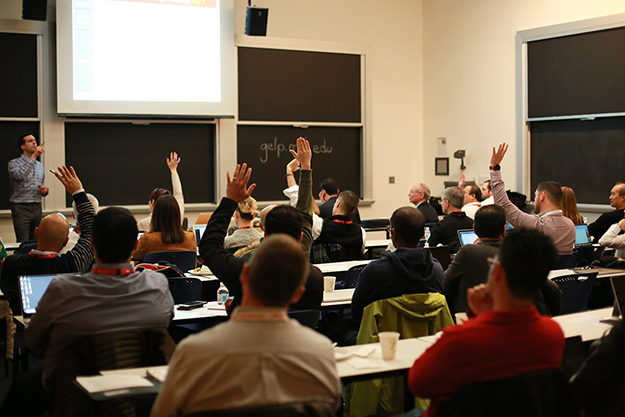 34 People, 9 Countries
"What I thought was truly remarkable were the people in attendance," says Nicole Castillo, Business Analyst & IT Product Owner at Realogy in Highland Park, NJ. "While we were each there for various reasons, you could tell that everyone was open and willing to share their own experiences. I think the instructor was masterful in pulling those experiences out of us."
The course participants are incredibly diverse in age, background, experience, nationality, and motivations. They represent areas such as government, consulting industries, emerging companies, disrupting firms, and pharmaceuticals, and hail from all over the United States, Mexico, Peru, China, and more. No matter the background, which ranges from entry-level engineers to more seasoned executives looking to gain a modern perspective on design, everyone constructs a pipe cleaner prototype.
A common theme for participants in the course is to get ahead of the competition, to stand out, to be innovative, and to disrupt. "'Innovate or die,' in this market isn't just a catchy phrase. Every day, Latin America becomes more and more competitive. We have an obligation to evolve twice as fast as the rest of the world," says Arbocco. "This course is designed to help us think differently, to be more critical of the issues we have at hand, to be discriminating about what's important and to focus on it, all so we can move faster in this dynamic environment."
Others, such as Castillo, aim to use this knowledge to bridge the gender gap in technology. "I am really passionate about technology, especially women driving technology and innovation. This program intrigued me not only because of the caliber of MIT as an educational institution, but also the content available proved to be incredibly relevant."
Immediate Takeaways
The pros and cons of an intensive two-day course are that while you walk away with relevant, applicable information immediately, it still takes some time to process everything. Nonetheless, the participants know exactly how they are going to apply their newly received education. Matthiesen mentions that the immediate takeaway for her is seeing the importance of approaching each professional project from the perspective of the client. "Even in efforts with long-standing clients, every project offers an opportunity to understand the client and their products/services anew." She plans to identify opportunities and to re-envision new and ongoing projects within her company.
Arbocco plans to take this knowledge back to his entire team. "[I will] make sure this is just the beginning of a deeper change in my organization. Real change only happens when everyone in the organization - not only the leaders - have the tools and the right mind to actually promote innovation."
Castillo's plans are similar, hoping to bring the same spirit of openness and willingness to learn back to her company. "Examining what I do, why I do it and how I can do it better is something that will be at the forefront in my mind."
The Importance of Innovation
Consensus is universal across the board: this unique and dynamic course proves to be immediately fruitful, reinvigorating a sense of innovation and urgency for many participants, whether they are decision makers or emerging professionals looking to start off strong.
The information given in the two-day course reflects what many universities teach in an entire semester. None of it is unnecessary, each hands-on session proved relevant, and all the participants got to know each other in a short amount of time. It will be interesting to see how the 10-step design process, among other newly-gained skills, will positively affect each participant's work and businesses moving forward.
The next installment of our Mastering Innovation & Design-Thinking course takes place over three days from July 9-11, 2018 in Cambridge, MA. Blade Kotelly and Joel Schindall will return as instructors to provide participants with the same hands-on experience that the winter session received. Register now and reserve your spot before seats fill up in this widely-popular course!