Staff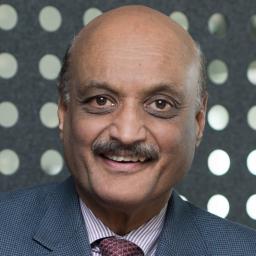 Bhaskar Pant is the Executive Director of MIT Professional Education, the arm of MIT that provides technical professionals a gateway to MIT expertise via education courses and programs designed for them.
Under Mr. Pant's leadership, MIT Professional Education has increased substantially its program offerings, corporate relationships, and global outreach, engaging professionals in more than 120 countries with its on-campus, international, and more recently launched online and hybrid programs. Courses addressing cutting-edge topics such as big data, machine learning, artificial intelligence, and the internet of things, combined with professional development courses in the fields of innovation and entrepreneurship, have benefited thousands of professionals around the globe. 

Mr. Pant served on MIT President's task force on "The Future of Education at MIT" contributing specifically on the sub-committee addressing "Bringing MIT to the World". Under a global outreach initiative launched by Mr. Pant, MIT Professional Education has been offering MIT short courses in increasing international locations in Asia, Latin America, Middle East, and Europe.
Prior to joining MIT, over three decades, Mr. Pant held senior leadership positions in academic and corporate organizations around the globe. Most recently, he served as Managing Director, Asia Pacific, for the Educational Testing Service (ETS), the world's foremost academic testing organization, under which he oversaw the company's English language testing operations for a region extending from Afghanistan to New Zealand. This included the opening of subsidiaries in India and China that administered the TOEIC English proficiency test for engineers and other working professionals.
Previously, Mr. Pant led the global corporate training arm of the School for International Training (SIT) in Vermont, addressing the language and cultural training needs of technical professionals working for some of the world's largest multinational organizations such as ExxonMobil. Prior to that, Mr. Pant held senior management positions at media and media technology companies such as Sony Corporation and Turner Broadcasting/CNN. Mr. Pant served as the first President of Turner Broadcasting's south Asia subsidiary based in India.
Mr. Pant holds an undergraduate degree in electrical engineering from the University of Rochester and a graduate degree in communications and management from Indiana University in Bloomington. Besides managing MIT Professional Education, Mr. Pant teaches intercultural communication to engineering students and industry professionals at MIT, and has taught a graduate course in intercultural management at Harvard University's Extension School. His articles on the subject have been published in the Harvard Business Review and the European Business Review.