Open House: Crisis Management & Business Resiliency
May 02, 2023
12:00 -1:00 PM EST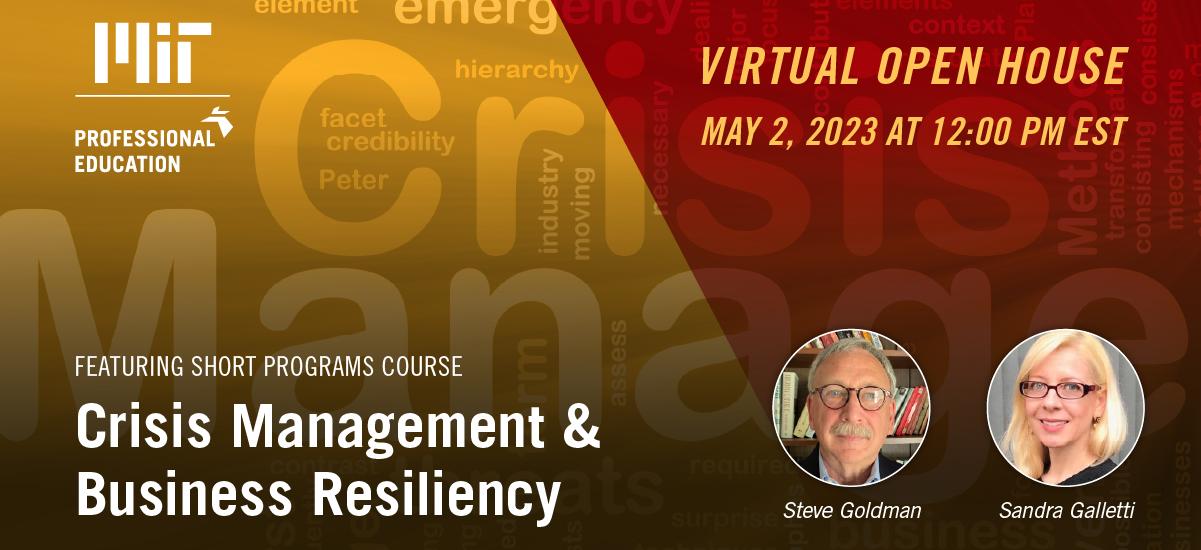 Cyber security threats. Social media disasters. Global health emergencies. 
 
Great leaders are ready to respond to a crisis before—not after—it hits. Be prepared to rise to the occasion when your organization faces unexpected challenges. In our essential on-campus course, Crisis Management & Business Resiliency (July 24–28), you will acquire the vital knowledge, tools, and strategies you need to enhance your organization's business continuity, disaster recovery, and crisis communication programs. 
 
Wondering if our program is right for you? Our Virtual Open House is your chance to:
Meet lead instructors and crisis management experts, Steve Goldman, Dick Larson, Lou  DiBerardinis, and Sandra Galletti
Explore how the course will directly address issues that affect you, your disaster  response, and your organization
Learn more about the program's activities and networking opportunities
 Ask questions  during a live Q&A session
Questions? Contact us at shortprograms@mit.edu.