[Live Workshop] Deriving Data-driven Insights with NLP
September 14, 2022
1:00AM CT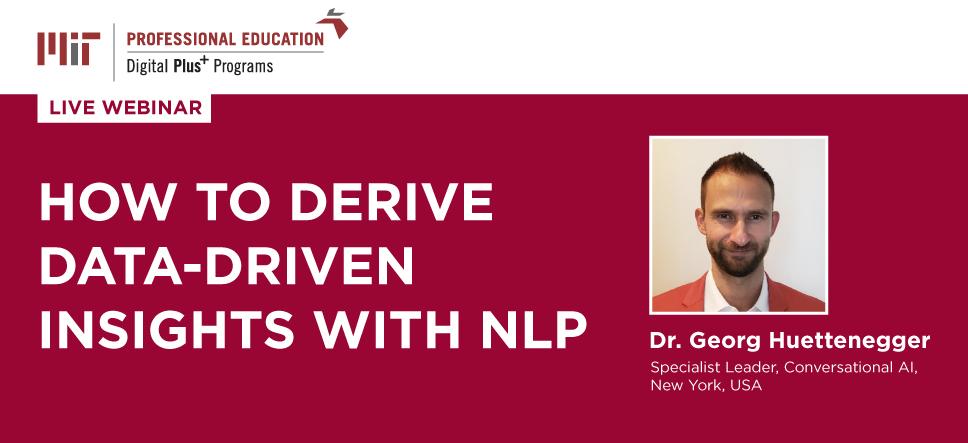 Overview:
Learn how Natural Language Processing is revolutionizing businesses in the 21st century.
Engage in an interactive, live workshop on No Code AI tools, like RapidMiner, with renowned expert, Dr. Georg Huettenegger (Specialist Leader, Conversational AI), where you will learn how to implement leading NLP technologies. 
You will work on Text Classification, Sentiment Analysis, Clustering, Topic Modeling & Unsupervised Learning on text data. In addition you will find out how NLP helps businesses establish a virtuous feedback cycle to improve the quality of their products and services.
A limited number of seats are available for this workshop. Secure your spot today.
What you will gain from this workshop:
    •    Learn about Natural Language Processing (NLP) and how it has transformed business processes
    •    An understanding of the different forms of NLP and their business applications
    •    Hands-on experience with NLP techniques using a No Code AI approach
    •    Live Q&A session with Dr. Georg Huettenegger, an expert in NLP and Conversational AI
About the speaker:
Dr. Georg Huettenegger has a track record of repeatedly establishing leading products and platforms and driving strategic growth initiatives of over $30MM for global Fortune 500 companies. He currently works as a specialist leader in the field of Conversational AI, and has significant experience across the Financial Services, Insurance, and Telecommunications industries.
Moderator: Vishnu Subramanian, Lead Data Scientist at Great Learning