Lifelong Learning Webinar Series: Nano 2021 & Metal Additive Manufacturing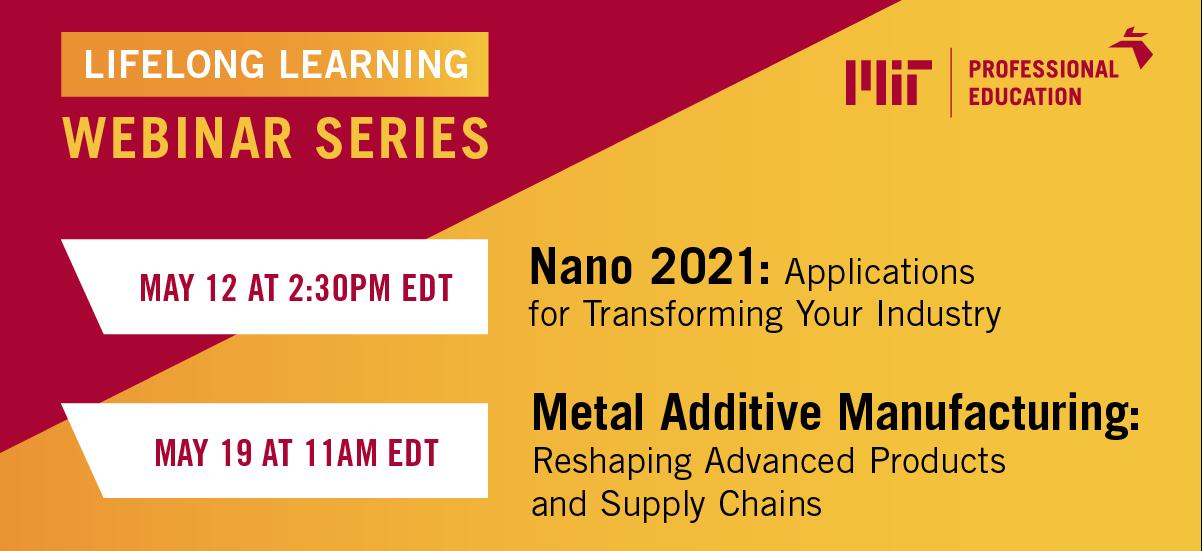 Nano 2021: Applications for Transforming Your Industry with Brian Anthony, Associate Director of MIT.nano
Date: Wednesday, May 12, 2021
Time: 02:30 PM Eastern Daylight Time
Duration: 1 hour
Summary
State-of-the-art advancements in nanoscience are revolutionizing industries. Deepen your understanding of the nanoscale—and discover how it can transform your organization in our free upcoming webinar. In this live virtual one-hour session, Associate Director of MIT.nano, Brian Anthony, will provide:
An overview of nanoscience—and why it's consequential for your organization
Examples of groundbreaking nanotechnology applications across several industries, including transportation, energy, and healthcare
Predictions for the future of the nanoscale.
Following the presentation, you can ask your own questions during a live Q&A session.
Metal Additive Manufacturing: Reshaping Advanced Products and Supply Chains with Professor John Hart
Date: Wednesday, May 19, 2021
Time: 11:00 AM Eastern Daylight Time
Duration: 1 hour
Summary
With increasing emphasis on digital transformation and supply chain agility, many organizations are turning to additive manufacturing (AM) across the product life cycle - including for production and on-demand repair applications. Additive manufacturing of metals and other advanced materials is growing rapidly, and is being adopted across the globe.
Interested in learning more? Join MIT Professor of Mechanical Engineering, John Hart, for this one-hour webinar, where you'll:
Discover how AM of metals is driving innovation, from materials design to the factory floor.
Learn key considerations when selecting an AM process for metals, including quality, cost, and throughput.
Identify applications of AM in aviation, medical, tooling, and other industries.
Learn how computational design and can accelerate new innovations using AM.
Following the presentation, you can ask your own questions during a live Q&A session.