Interactive Session for MIT Professional Education's ADSP Program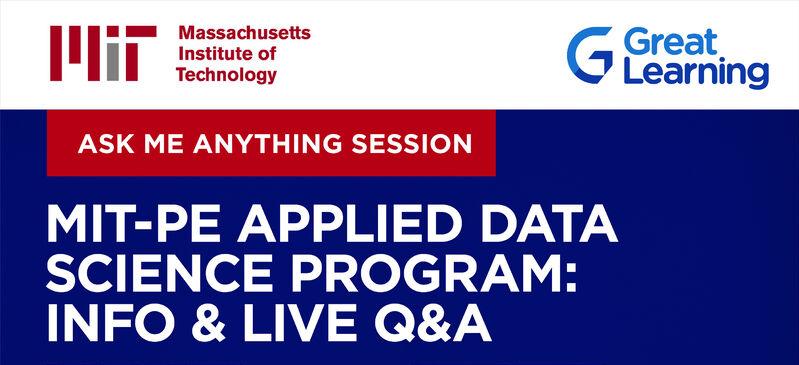 Data is growing at a rapid pace and changing times would require us to be data ready, which includes learning from the best and who better than MIT who is a pioneer in this field.
Join us for an exclusive 'Ask Me Anything' session with Karen Morrissey (Assistant Director, Short Programs at MIT Professional Education) and Milind Kopikare (President of Great Learning, North America) as they share about what it takes to be a part of the coveted program. The interactive webinar is a great opportunity to understand the learning journey of MIT Professional Education's Applied Data Science Program in detail and have your questions about the program answered live.
The session will cover:
Insights on how to advance or transition your career in Data Science
How the MIT ADSP Program can help you achieve your career goals in 2021
Details of Mentored learning and curriculum structure
Live Q&A session for all your queries
About the speaker:
Karen Morrissey is the Assistant Director of Short Programs with MIT Professional Education. Her current interests include being at the helm of combining education expertise with industry needs. She also harbors skills such as being excellent at cross collaborations and building strong interpersonal relationships. In the past, she has been associated with organizations such as Harvard Business School Executive Education, Ventlab Corporation, and Golden Grace Diamond Co. She has a Masters in Hospitality and Tourism Management from the University of Massachusetts, Amherst.
Milind Kopikare is the President, Great Learning, North America. Milind was the VP and Head of Product at Qualtrics - the leader in Customer Experience Management. He loves talking about technology and teaching is one of his favorite hobbies. He has a special interest in Data Visualisation and Product Strategy. He is a Digital transformation and customer experience management expert with a track record of managing and growing SaaS businesses.