Faculty Forum Online: Inclusion and Innovation in Global Development
April 21, 2021
11:30 am - 12:30 pm, EDT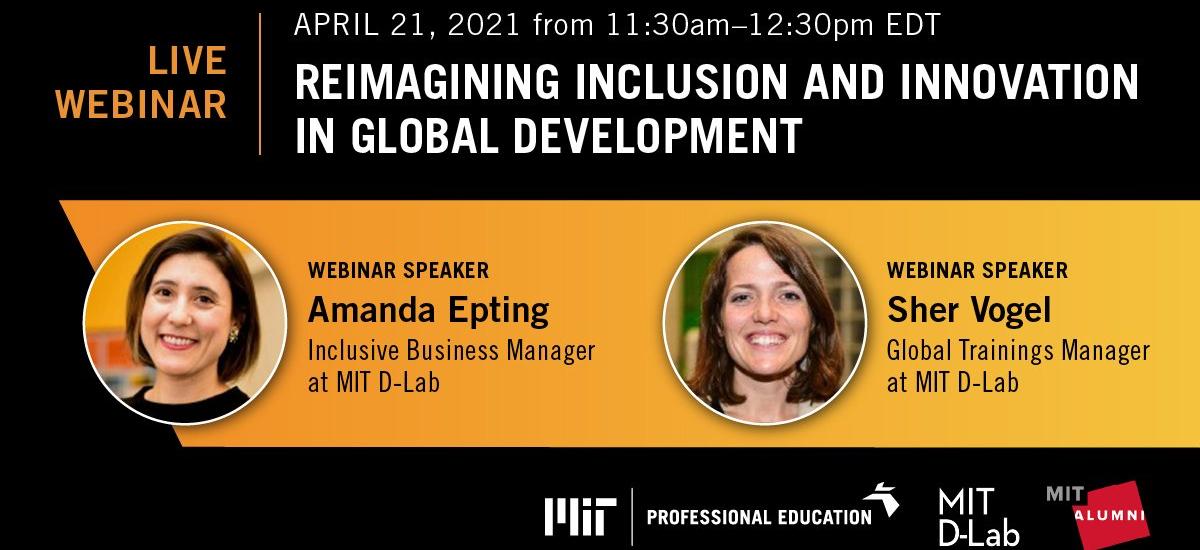 Through cutting-edge academic programs, research, and innovation practice, MIT D-Lab is helping professionals around the world develop and advance collaborative approaches to solving global poverty challenges.
Interested in learning how these frameworks can transform your work? Connect with like-minded professionals and explore the critical work of MIT D-Lab by registering for our upcoming Faculty Forum Online: Reimagining Inclusion and Innovation in Global Development, co-hosted with MIT D-Lab and MIT Professional Education.
Featuring a presentation led by MIT D-Lab's Sher Vogel and Amanda Epting and a breakout small group discussion, this session will help you: 
   • Discover more about the pioneering work of MIT D-Lab
   • Explore the three types of participatory design
   • Enhance your understanding of inclusive business
   • Connect with accomplished global peers and potential partners
Following the webinar, you can gain further insights during a live Q&A with Vogel and Epting. 
Meet the Experts
Sher Vogel is a manager, trainer, and connector of communities at MIT D-Lab, where she works extensively with a network global facilitators to develop practical curriculum to guide diverse teams as they create solutions to complex challenges. She has a passion for inviting community voices and local context into the design process, and has experience facilitating cross-cultural and participatory trainings across Africa, Latin America, and Southeast Asia. 
Amanda Epting manages outreach and inclusive business initiatives as part of MIT D-Lab's Innovation Practice team. Prior to joining D-Lab, Amanda contributed to digital product development for Mastercard, built content and connected FinTech and microfinance professionals for Accion International and the Digital Frontiers Institute, and managed an entrepreneurship and financial inclusion program for Pact. 

Learn More
Looking to take your knowledge of inclusive innovation and inclusive business even further? MIT D-Lab has partnered with MIT Professional Education to offer two upcoming live virtual courses: Inclusive Innovation: Designing for a Better World, June 7 - 11, 2021, and Applied Inclusive Business: Scaling Technology in Low-Income Markets, June 14 - 22, 2021. 

About MIT D-LAB
MIT D-Lab works with people around the world to develop and advance collaborative approaches and practical solutions to global poverty challenges. The mission is pursued through our academics program of more than 20 MIT classes and student research and fieldwork opportunities; our research groups spanning a variety of sectors and approaches; and a group of participatory innovation programs we call innovation practice. Learn more.
About MIT Professional Education
For 70 years, MIT Professional Education has been providing technical professionals worldwide a gateway to renowned MIT research, knowledge, and expertise, through advanced education programs designed specifically for them. In addition to industry-focused, two-to-five-day live virtual and on-campus courses through Short Programs, MIT Professional Education offers professionals the opportunity to take online and blended learning courses through Digital Plus Programs, attend courses abroad through International Programs, enroll in regular MIT academic courses through the Advanced Study Program, or attend Custom Programs designed specifically for their companies. For more information, visit professional.mit.edu.
Live captioning will be available. This event will be recorded and an archive made available on the MIT Alumni Association YouTube channel within a week of airing.