Digitalization in Manufacturing and Human Health: From Sensors, to Data, to AR/VR
June 15, 2023
12:30 - 1:30 pm ET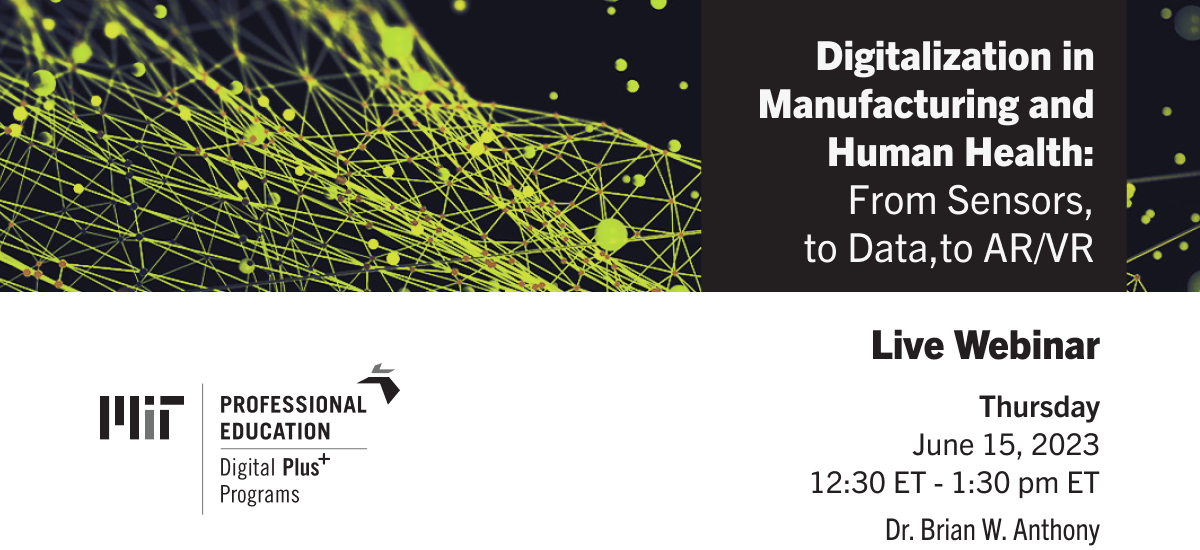 Many sectors will undergo complete digitalization of their facilities and organizations. A clear example is the auto industry with the introduction of automation in its factories. Devices, tools, and technology such as AR/VR, utilization of sensors, and machine learning are and will enhance production or, more accurately, diagnosing patients for their health concerns.     
MIT instructor, Associate Director of MIT.nano, and Emmy-award winner, Dr. Brian W. Anthony will lead a live webinar analyzing the use and optimization of technology such as machine learning, IoT (The Internet of Things), and AI in Digitalization in Manufacturing and Human Health: From Sensors, to Data, to AR/VR.  
Explore how sensors in healthcare can provide more accurate treatment for patients, parallel to manufacturing, where they are used to identify equipment malfunctions and reduce errors in production. These tools are essential in optimizing processes and outcomes, from enhancing patient and hospital staff communications via AR (Augmented Reality)/VR (Virtual Reality) to improving quality control and detecting illness using combined technologies such as IoT, AI, and machine learning. 
Engage in this discussion about how Industry 4.0 technology is driving the digitalization of the manufacturing and healthcare sectors.  
Join us live from 12:30 ET - 1:30 pm ET on Thursday, June 15, 2023.  
The session will be in English with simultaneous translation available in your preferred language.