BioProcess International
Hybrid Event | Boston Convention and Exhibition Center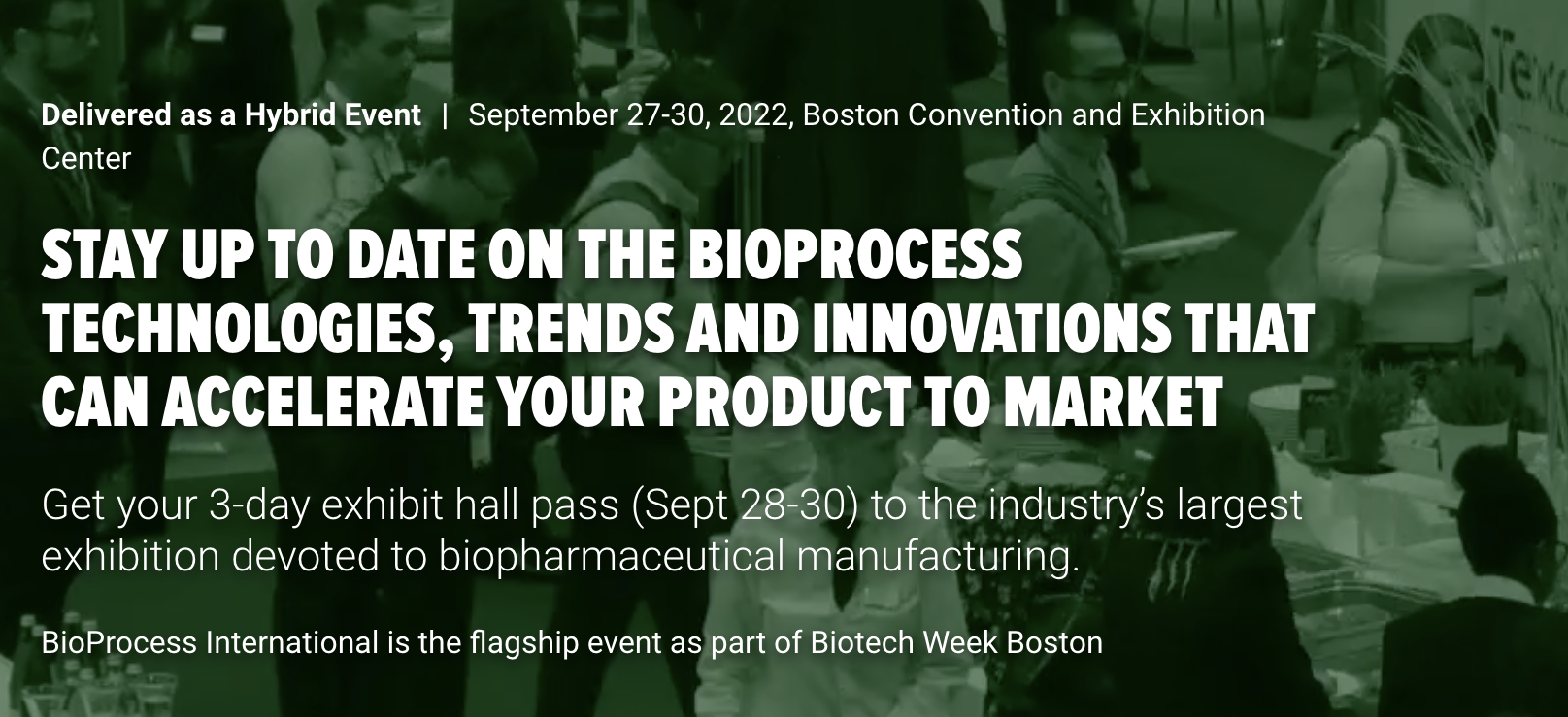 Connect with 2000+ Bioprocessing Colleagues in Boston this September!
Each year, BPI's scientific agenda includes 200+ of the industry's top scientists to present the latest updates on how to improve efficiencies across all phases of biopharmaceutical development and production. 
Attendance is back to pre-pandemic levels, with 95% of registrants attending BPI 2022 in person! Register your team by Friday, September 9, to gain early access to our ConnectMe platform that allows you to view the full attendee list and schedule meetings starting two weeks before the event. Learn more. 
There are a variety of registration options, including: 
All Access Main Conference & Workshop Pass, $3899.00
Access to all benefits included in the Digital Experience + 3-Day Exhibition Visitor Pass
Access to all live in-person scientific presentations across all conference tracks during September 28-30
Access to the live exhibit and poster hall during September 28-30
Access to daily networking lunches and refreshment breaks during September 28-30
Access to all in-person live workshops held on September 27
Access to the attendee networking lunch reception held on September 27
Access to the recorded in-person main conference presentations (12 months of on-demand access after the in-person event in Boston concludes)
3-Day Exhibition Visitor Pass, $799.00
Access to the shared BPI/Cell & Gene Therapy exhibition featuring 200+ exhibitors across Sept 28-30
Access to the ConnectMe app starting 2 weeks pre-event allowing you to send & receive meeting requests (access to presentation recordings are not included in this pass)
Access to 100+ peer-submitted scientific posters inside the exhibition
Access to 40+ Novel Technology Showcase presentations on the BPI Theater Stage inside the exhibition
Access to 4 BPI/Cell & Gene Therapy Keynote Presentations on the Keynote Stage inside the exhibition
Access to the Exhibit & Poster Hall Grand Opening Cocktail Reception (Sept 28) 
Access to the Biotech Week Boston Festival Party on Lawn on D (Sept 29)