AMA Session with Applied Data Science Program Alum: Pradeep Podali
August 24, 2021
12:00pm - 1:00pm EST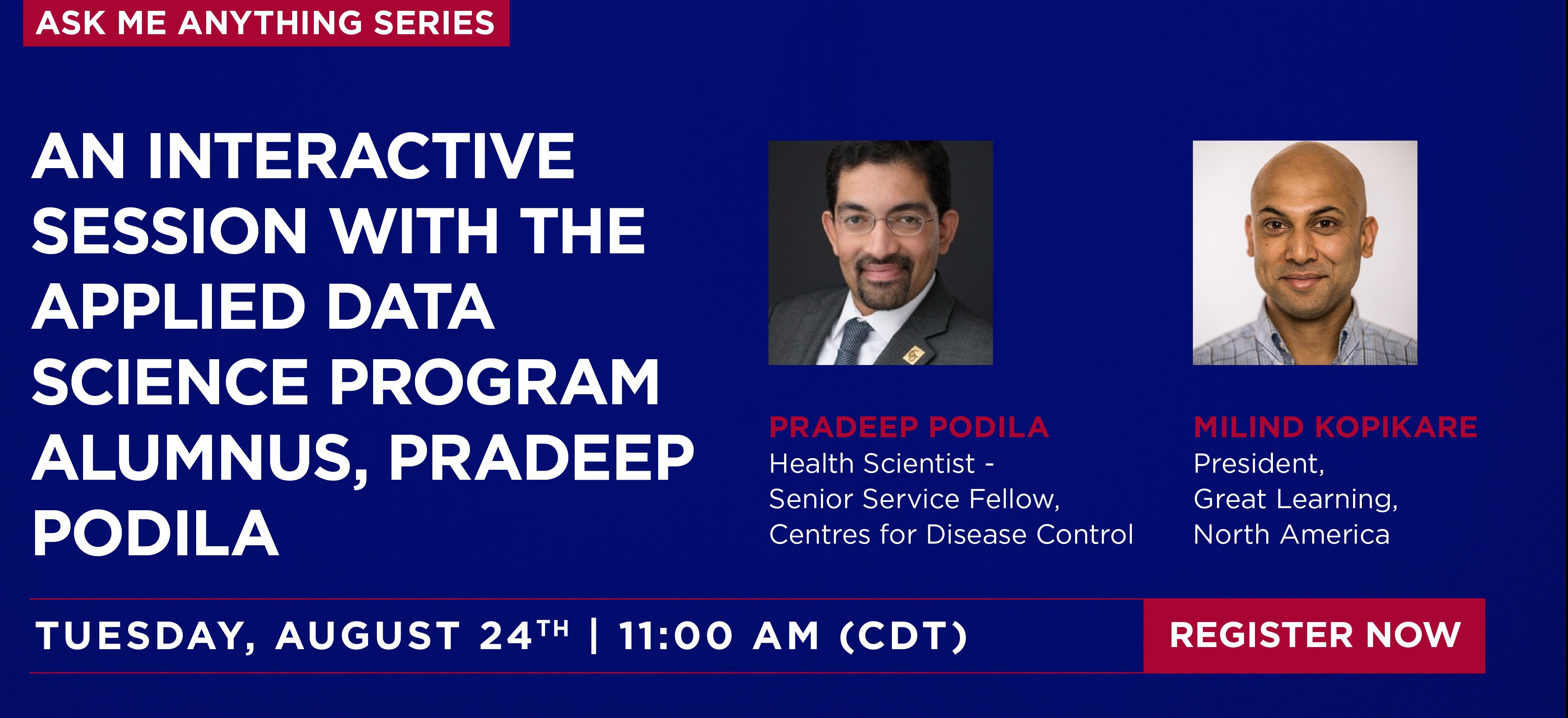 Curious about any aspect of MIT Professional Education's Applied Data Science Program? Hear about it first-hand from our alumni as they share on how joining the program impacted them and helped them achieve their professional goals. Sign up for the AMA webinar.
Join us for an exclusive 'Ask Me Anything' session with Pradeep Podila, Health Scientist at Informatics and Senior Service Fellow at Centers for Disease Control and Prevention (CDC), and Milind Kopikare, President of Great Learning, North America, as they share about how the Applied Data Science program helps professionals upskill into the booming domain of data science.
The interactive webinar is a great opportunity to understand the learning journey of MIT Professional Education's Applied Data Science Program in detail and have your questions about the program answered live.
 The session will cover:
Insights on how to advance or transition your career in Data Science

How the Applied Data Science Program can help you achieve your career goals in 2021

Details of Live mentorship, hands-on learning and curriculum structure

Live Q&A session for all your questions
About the Speakers
Pradeep Podila
Pradeep has about 15 years of combined multisectoral experience in Health/Public Health Informatics, Health Services/Population Health Research and Data Analytics, and Systems Support. He has volunteered as an Adjunct Professor in the Division of Health Systems Management and Policy (HSMP) in the School of Public Health at the University of Memphis from 2015 – 2018 teaching Managerial Epidemiology, Health Policy and Organization of Health Services, and Seminars on Healthcare Data Analytics to Master of Health Administration students. He served as a Baldrige Board of Examiner with the Tennessee Center for Performance Excellence (TNCPE) in 2016, and 2017.
He has received Master's Degrees in Electrical/Biomedical Engineering and Healthcare Administration; and a Ph.D. in Public Health (Epidemiology) from the University of Memphis. He received his Six Sigma Black Belt certification from the Memphis Lean Six Sigma Institute (MLSSI). He had led a team that was placed third among 60+ registered teams in the 7th National SAS Data Mining Shootout Competition in 2013 by SAS, Teradata, and the Institute for Health and Business Insight (IHBI) in the Herbert H. & Grace A. Dow College of Health Professions at the Central Michigan University and is a fellow of American College of Healthcare Executives (ACHE) and Healthcare Financial Management Association (HFMA). He is also a Board Member of National Association of Healthcare Quality's (NAHQ) Education Commission, AMIA's Workgroup on Global Health Informatics and Healthcare Information and Management Systems Society's (HIMSS) – Professional Certification Committee, and TIGER International Task Force developing a module on Global Health Literacy.
Milind Kopikare
Milind Kopikare is the President, Great Learning, North America. Milind was the VP and Head of Product at Qualtrics - the leader in Customer Experience Management. He loves talking about technology and teaching is one of his favorite hobbies. He has a special interest in Data Visualization and Product Strategy. He is a Digital transformation and customer experience management expert with a track record of managing and growing SaaS businesses.