AMA Session with Applied Data Science Program Alum: Chad Barrett
July 27, 2021
12pm - 1pm EDT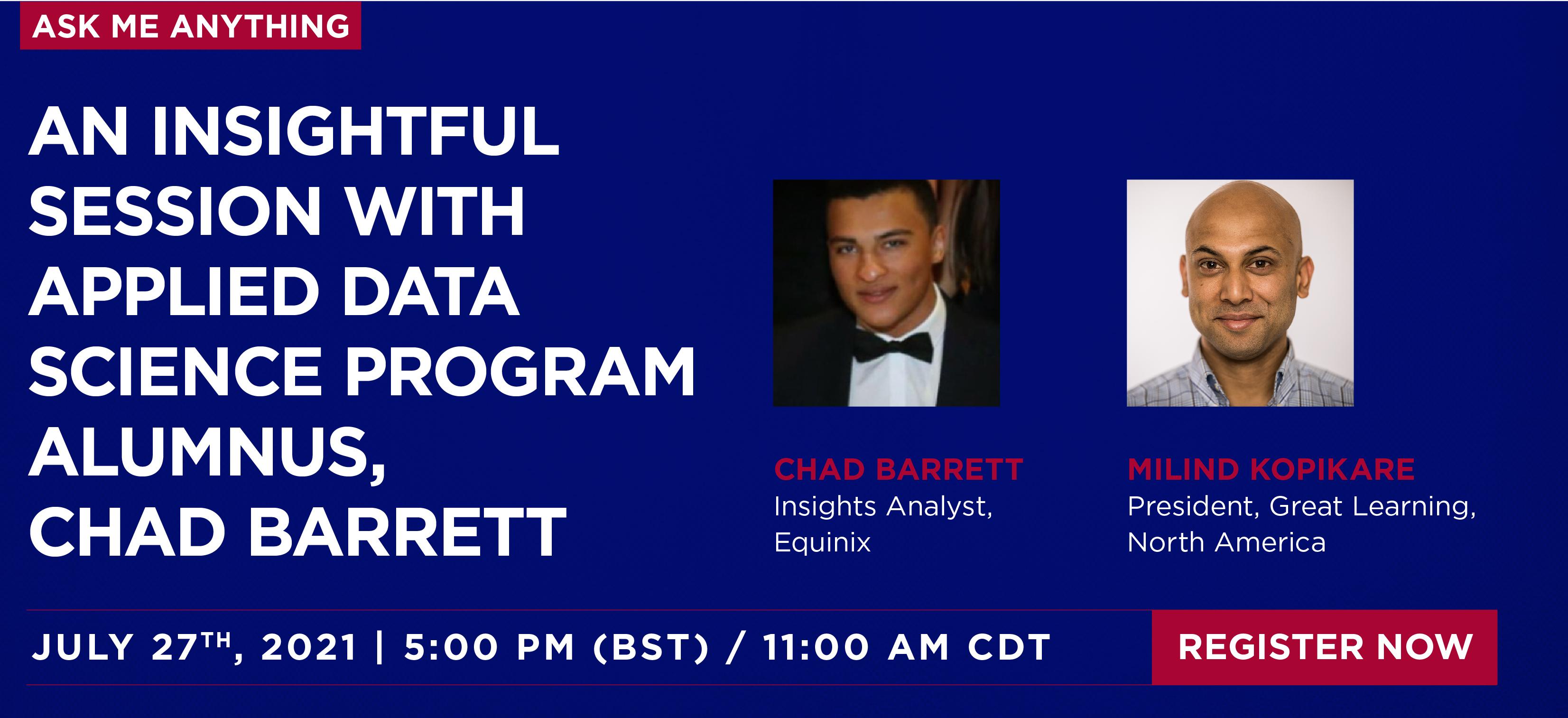 Join us for an exclusive 'Ask Me Anything' session with Chad Barrett (Insights Analyst at Equinix) and Milind Kopikare (President of Great Learning, North America) as they share about how the program helps one upskill into the booming domain of data science. 
 
The interactive webinar is a great opportunity to understand the learning journey of MIT Professional Education's Applied Data Science Program in detail and have your questions about the program answered live.  Register Here
 
The session will cover:
 
- Insights on how to advance or transition your career in Data Science
- How the Applied Data Science Program can help you achieve your career goals in 2021
- Details of Live mentorship, hands-on learning, and curriculum structure
- Live Q&A session for all your queries
 
About the speaker: Chad Barrett is an Insights Analyst at Equinix. Apart from being an Economics major from the University of Manchester, Chad has dedicatedly pursued data-driven approaches in various stages of his career. His vast experience in the domain includes conducting research on digital innovations as a Digital Research Intern at the University of Cambridge. Chad further also conducted independent research on machine learning and its business application at Cambridge. He joined the Applied Data Science Program by MIT Professional Education in 2020 as another step to advance his journey in the world of data-driven decision-making and will be sharing his experience on the same in the upcoming session.
 
Milind Kopikare is the President, Great Learning, North America. Milind was the VP and Head of Product at Qualtrics - the leader in Customer Experience Management. He loves talking about technology and teaching is one of his favorite hobbies. He has a special interest in Data Visualisation and Product Strategy. He is a Digital transformation and customer experience management expert with a track record of managing and growing SaaS businesses.