Learn more about human-centered design and its impact on corporate success with Design-Driven Innovation instructor Matthew Kressy in this 60-second video.
Reimagine your design processes and create a corporate culture that's conducive to radical innovation—and radical results. Exemplifying MIT's commitment to "mens et manus," the fusion of academic knowledge and practical purpose, this three-day course is designed to help you gain a deeper understanding of your customers' needs, assess cutting-edge research methods, and master essential strategies for producing innovative organizational solutions.
Course Overview
This course may be taken individually or as part of the Professional Certificate Program in Innovation & Technology or the Professional Certificate Program in Design & Manufacturing.
Successful innovation begins and ends with a deep understanding of the end user. It's not enough for products to be functional and efficient; they must also strongly resonate emotionally with the people that use them. Design-driven Innovation provides a powerful organizational framework and tool set to help you create wildly successful solutions. Great products make great companies, and the key to both is having deep understanding of the needs and emotions of the customer. Many companies are capable of great innovation, products and services, but they lack the corporate culture to bring those innovations to market. Established organizations invariably become focused on optimization, cost reduction, productivity and risk mitigation. This culture prevents great ideas from making it to market and results in them being vulnerable to those companies that do.
This course will enable participants to harness the power of design processes to facilitate innovation, as well as enabling thoughtful, inspired leadership. The same processes that connect us to our customers, understands their needs, emotions and dreams, can also inform and empower leadership. Using the user-centered design process, participants will learn how to get deep understanding of user's needs and emotions. Participants will practice various research methods including interviews, observational research, needs list, personas, storyboards. With these tools, teams will present their findings in a way that communicates empathy and the Participants will learn and practice the user-centered design process and the design-driven design process through a series of lectures and hands-on exercises.
Participant Takeaways
Lead the transition to a design-driven innovative culture within their organization
Create a corporate culture that supports innovation and accepts risk
Build consensus and provide vision to peers and management
Who Should Attend
This course is designed for executives and senior managers, as well as other roles involved in leadership, innovation, and organizational transformation.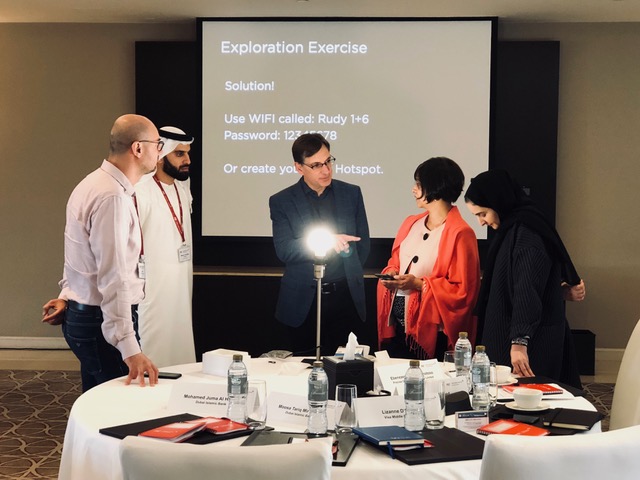 Requirements
Participants are required to bring a laptop or tablet with PowerPoint or Keynote and Excel.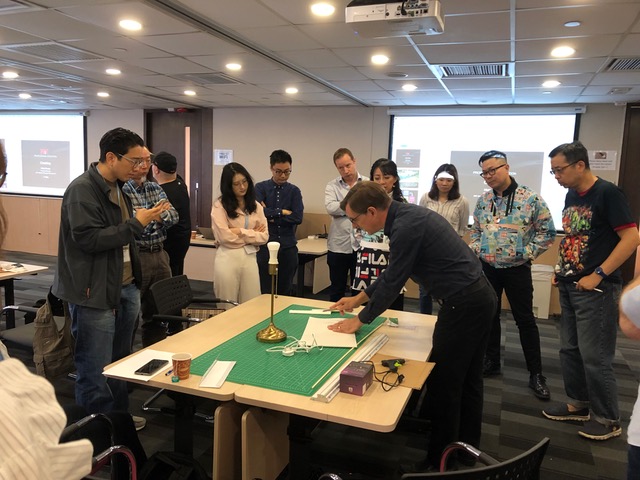 Program Outline
This course meets 9:00 am - 5:00 pm on Monday and Tuesday, and 9:00 am - 4:30 pm on Wednesday. There is a networking event on Tuesday from 5:30-6:30 pm.
Day 1
9:00-10:30 am
Lecture: Leadership and Design Process
Exploration, empathy, expression, integration, leadership
10:30 am-12:30 pm
Exercise: Exploration and Empathy
Participant group performs interview and observations
12:30-1:30 pm
Working lunch (continuation of exercise)
1:30-2:00 pm
Lecture: Expression
Storytelling, personas, image boards, photo essay, video
2:00-3:30 pm
Exercise: Expression
Storytelling, personas, image boards, photo essay, video
3:30-5:00 pm
Presentations & Debrief
Day 2
9:00-10:30 am
Lecture: Creating
Creating functional and emotional value, strategy, selection, Saltshooter case
10:30-11:00 am
Online Collaboration tools
Google sheets, Google docs, Google slides, Adobe Illustrator
11:00 am -Noon
Exercise: Creating
Create a functional and beautiful User Interface UI/UX
Noon-12:30 pm
Working lunch (continuation of exercise)
12:30-3:30 pm
Continuation of exercise
3:30-5:00 pm
Design Review
Go from team to team and critique designs
5:30-6:30 pm
Virtual course reception
Day 3
9:00-10:00am
Lecture: Leadership & Excellence
Courage, vision, drive, togetherness
10:00-10:30am
Exercise: Build Leadership & Innovation Strategy
Each participant develops a leadership plan for their current company that results in a visionary innovation culture
10:30-Noon
Presentation of Strategies
Noon-12:30 pm
Program Reflection
 
Content
The type of content you will learn in this course, whether it's a foundational understanding of the subject, the hottest trends and developments in the field, or suggested practical applications for industry.
Fundamentals: Core concepts, understandings, and tools - 30%|Latest Developments: Recent advances and future trends - 25%|Industry Applications: Linking theory and real world - 45%
30|25|45
Delivery Methods
How the course is taught, from traditional classroom lectures and riveting discussions to group projects to engaging and interactive simulations and exercises with your peers.
Lecture: Delivery of material in a traditional lecture format - 40%|Discussion or Group Work: Participatory learning - 15%|Labs: Demonstrations, experiments, simulations - 45%
40|15|45
Levels
What level of expertise and familiarity the material in this course assumes you have. The greater the amount of introductory material taught in the course, the less you will need to be familiar with when you attend.
Introductory: Appropriate for a general audience - 30%|Specialized: Assumes experience in practice or field - 45%|Advanced: In-depth explorations at the graduate level - 25%
30|45|25